Meet Us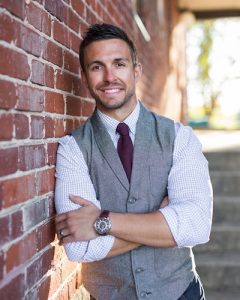 Dr. Dan
Co-Founder Head Chiropractor
Dr. Daniel Wallis is a Fort Collins, Colorado native, who's passion for health and service began at an early age. After high school in Fort Collins, Dr. Wallis spent the next 9 years in higher education, earning a bachelors degree in Integrative Physiology from the University of Colorado, working as a personal trainer and health coach for 2 years, and finally moving to Atlanta, Georgia to pursue a Doctorate of Chiropractic from Life University.
Dr. Wallis is passionate about giving back to others, and was fortunate to have many opportunities to do so. Whether it was multiple mission trips to Thailand, Guatemala, and Belize to build housing, or biking across America in 2008 to raise funds and awareness for people with disabilities in the US, Dr. Wallis feels as though he has been given an opportunity to serve, and will make sure this continues. When he is not in the office teaching others about health, or speaking to groups, you can find Dr. Wallis together with his wife Elise working out in the Colorado outdoors, or with her on a Sunday after church wandering the local Whole Foods, dreaming up their next home cooked healthy meal.
He is honored to be back in the Northern Colorado community, and be a part of Elevating the health of this area.
Elise Wallis
Co-Founder Director
Elise grew up in Glen Arm, MD, a small suburb of Baltimore, Maryland. She was heavily involved with sports and was a 3-sport athlete throughout her high school career. She went on to the University of Colorado, Boulder to receive her degree in Economics. Elise is the Co-Owner and Office Manager at Elevate Chiropractic and, more often than not, you will find her smiling at the front desk. When Elise is not in the office, you can find her running the Colorado trails with her husband, at the farmers market finding local fare, or experimenting in the kitchen.
"I am proud and honored to join my husband, Dr. Daniel, in serving the beautiful community of Northern Colorado with natural health care. I have experienced, firsthand, the benefits of chiropractic care in both my life and my family's lives, and am excited to see it benefit this community. I look forward to meeting you and your family!" – Elise
Dr. Andrés
Chiropractor
Dr. Andrés Juliá was born and raised in the island of Puerto Rico. After completing his pre-med studies at the University of Puerto Rico, he decided to move to Marietta, Georgia where he earned his doctor in chiropractic degree from Life University in the fall of 2016. After visiting Fort Collins and Elevate Chiropractic for a couple of days, Dr. Andrés knew this was the place to be.
He is passionate about working with kids, pregnant moms and families in general. When he's not adjusting people in the office, he likes to spend time speaking to audiences about the wisdom of the body and the power of chiropractic.
"This opportunity to be part of the Elevate team has been a huge blessing and I want to bless the community back in every way I can. " – Dr. Andrés
Aimee Greubel
Office Manager
Aimee is originally from Colorado and lived in Nebraska, Montana and Wyoming before recently returning to Colorado. She is one of twelve kids in her family, and because of this, loves to be around people. She enjoys running, playing sports and being outside. She has known Dr. Daniel Wallis her whole life and has seen his passion for chiropractic care and helping people get to the lifestyle they hope to attain. This desire has quickly become her goal as well as she has seen how this chiropractic care has positively affected the community. She is honored and excited to be a part of that same mission at Elevate Chiropractic.
Nicole Vignola
Chiropractic Assistant
Nicole is originally from the little town of Bethlehem, CT. She graduated from Palm Beach Atlantic University with a Bachelor's Degree in Communication and a minor in Exercise Science. Her passion is health care and she is currently studying to become a Radiologic Technologist. When she isn't at work or school she is working out, hiking or enjoying time with family and friends. She was a practice member before joining the team and has a passion for sharing the health and healing that comes when you take your health into your own hands. She has experienced healing as well as athletic benefits through Principled Chiropractic and is ready to take part in our mission at Elevate!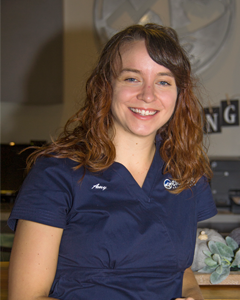 Amy Biggs
Chiropractic Assistant
Amy is originally from central Illinois, she moved here with her husband in 2015 and is happy to call Colorado home. She enjoys horseback riding, reading, photography and discovering new hikes with her husband. She went to school for Journalism with a minor in photography at Eastern Illinois University. She was a practice member before joining the team so she's experienced the health benefits of Principled Chiropractic. She is grateful and excited to share with others the benefits of taking control of your health.
Génesis Reyes
Chiropractic Assistant
Génesis Reyes was born and raised in the island of Puerto Rico. She attended DePaul University in Chicago, IL where she played D1 Volleyball and obtained her bachelor's degree in Public Relations & Advertising in the summer of 2014.
She loves to travel, workout and meet new people. Génesis is also a Barista and when she's not in the office, she enjoys visiting new coffee shops in different towns.
"I am so thankful for the opportunity to work at Elevate Chiropractic. Not only I get to work with amazing people who love and believe in what they do, but I also get to meet a lot of people and listen to their stories about what Chiropractic has done for them." – Génesis
Katy Schoenecker
Chiropractic Assistant
Katy is a Colorado native who graduated from Colorado State University with a degree in Health and Exercise Science in December 2013. She is passionate about health and wellness and enjoys running, biking, and rock climbing. Outside of work and working out, she loves hanging out with friends, reading and writing. She began her chiropractic care when she started here at Elevate and is excited about how it has brought about breakthrough in her own health. Katy is grateful to be a part of the team here at Elevate and excited to encourage others in their path toward healing and optimum health!